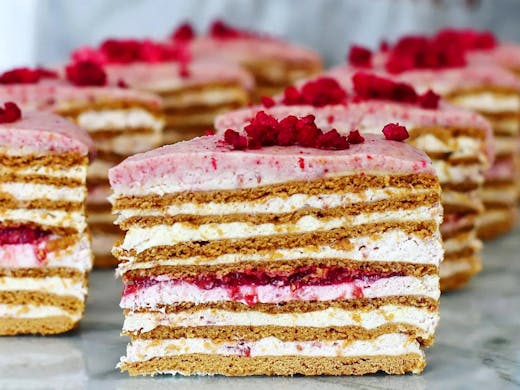 The Ultimate List of Sydney's Finest & Trending Desserts You Must Try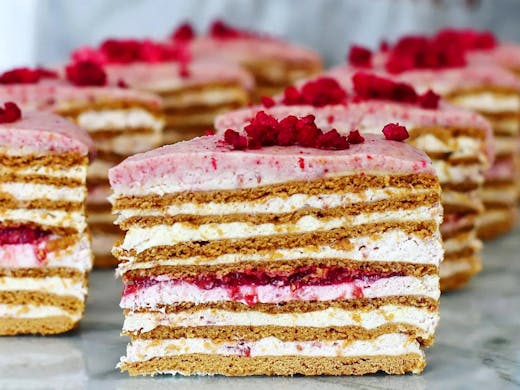 Sydney has given rise to some genuinely extraordinary confections. There is a lot of dessert quality and a lot of dessert history in Sydney, from Opera House-shaped passionfruit pavlova to the viral Strawberry Watermelon cake. Even the legendary Gelato Messina had its start on Sydney's streets.
If you have a sweet craving, you probably already know that Sydney is home to various restaurants that would make any dessert fan salivate. This article lists Sydney's top desserts that deserve every calorie. Check out Sydney's tastiest desserts for anything from pastries to cronuts, from the best patisserie in Sydney.
Trending desserts
Strawberry watermelon cake
The violet and reddish Dragon cake is a prestigious choice for Sydney dessert connoisseurs in the know. However, it might have been the Strawberry Watermelon cake that ignited everyone's hearts and established Strawberry Watermelon cake, a popular name in the world of dessert, pastry, and baked deliciousness.
It is a genuine work of beauty and deserves greater attention. It consists of beautifully chopped dragon fruit, pineapple vanilla custard, pomegranate jelly swirls, and a biscuit foundation.
Cheesecake doughnuts
Sydney loves doughnuts. While everyone's all for a standard hot cinnamon doughnut or a rose iced doughnut, these cheesecake basque ones take things a step further.
This scrumptious sourdough and brioche hybrid doughnuts often have various bizarre but delectable flavours. The standard is a doughnut with burned Basque cheesecake.
Gelato burger
Tradition is of the utmost importance, and the sensation is wholly authentic, from its shielded pots, used to keep a constant -12°C climate, to its brioche with gelato. This Italian innovation crushed gelato over two halves of a toasted bun. It will be perhaps unlike any other ice cream sandwich you've tried.
Tella shake
The freakshake mania may have subsided a little, but Sydneysiders might get a fill from the incredibly gratifying trending shake if they're still looking for an outrageous treat.
The shake has a doughnut with a dollop of Nutella on top of a milkshake. Finally, a large straw is wedged in the centre. As a result, it allows you to savour all the chocolatey bliss.
Knafeh
A group of singing and dancing guys offer the classic Middle Eastern dessert knafeh, formed with cheesy pastry and rich sugar syrup.
Lotus Biscoff knafeh, scrumptious knafeh panna cotta cones, and even a packed knafeh cake are variations on the traditional knafeh, which is made with sweet cheese enveloped in spun pastry and drizzled with rose water syrup.
Cronuts
The trademarked croissant-doughnut treat is known as the Cronut. It consists of croissant-like dough filled with flavoured cream and cooked in grapeseed oil to resemble a doughnut. Three days are needed to prepare the dessert.
When deep-fried, its layers of pastry puff up, and it is then covered with sugar, glazed, or filled with flavour-infused cream. The flavours include salted caramel, bacon with maple syrup, strawberries and cream, and mocha. You will find cronuts in almost any patisserie Sydney has.
Lamingtons
An Australian speciality cake is a lamington. A chocolate frosting coats little slices of white cake and a dusting of desiccated coconut on top—a popular traditional Australian dessert. You may use pound cake, butter cake, Madeira cake, or genoise sponge—any solid variety of simple cake.
The recipe for this Australian cake initially appeared in the Queensland Rural Life newspaper in 1900. As per Queensland City Hall, the eighth governor of the state's chef, Lord Lamington, invented the lamington to feed uninvited guests.
The takeaway
Sydney offers some incredibly delicious dessert options that are both delectable and Instagrammable, whether you're looking for a straightforward piece of cake or a show-stopping dish. This list above contains sweet delicacies and decadent goodies, including ice cream, pancakes, waffles, and pastries. Go out there and explore all these treats that a Sydney patisserie offers.